Swimming & sport
The house is in the countryside, with pleasant walks around. If you feel energetic there are three bicycles you can use. Tennis is available free of charge one kilometre away in Orignolles. Horseriding is also possible, just three kilometres away.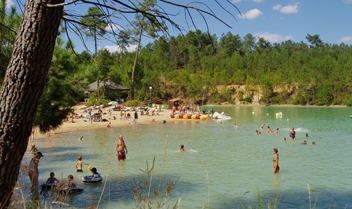 Aire de Beauvallon, 10 minutes from the gîte there is a small lake with sandy beach, safe for swimming, with small boats, pedalos and small houses for children. This is provided by the overlooking BBQ and bar, covered and in the open air. Open from the 1st of May to 31st of August.
Chateau du Taillan, riding stables 3km away, for adults and children.
Beaches north of Bordeaux are sheltered from the force of the open sea and more suitable for children.
The beach at Royan

Royan, St Georges de Didonne, La Palmyre and other resorts are about one hour's drive depending on traffic.
All are safe beaches. Beyond Royan are some huge and excellent beaches. Royan is noted for its sea food.
La Grande Plage is really big. Take a picnic as there is no commercial development. There is a lot of naturism - excellent for an all over tan.
South of Bordeaux: the coast at Lacanau and Cap Ferret is exposed to the open sea (1h1/2 - 2h depending on the traffic in and around Bordeaux). There is excellent surf but take great care because the under tow is extremely dangerous. Bathe where there are lifeguards for extra safety. On the other hand at Cap Ferret the beach is very long, less dangerous and partly watched.
Cultural walks
Saint Emilion a medieval village at the centre of a famous wine region.
Cognac, with the old town centre and the castle of Cognac where Otard still blend and store their cognac facilities.
We are in the centre of wine, cognac and pineau making districts and there are many "châteaux" you can visit to sample the products.
Aubeterre, another medieval village not as commercialised as St Emilion, with the largest monolithic church in Europe and an old church that was on the pilgrims route to Saint Jacques de Compostelle.
Blaye, an old fortress built to defend the entrance to the estuary of the Gironde against the English and other invaders. It still has the old village within its ramparts.
Limoges is 2 hours away.
Sarlat, the first French town to be protected against modern development in the sixties is 1h1/2 away.
A little further along the Gironde there is Talmont, a Roman chapel also on the pilgrims route to Saint Jacques de Compostelle.
Dune of Pyla is the largest in Europe, worth seeing but very commercialised.